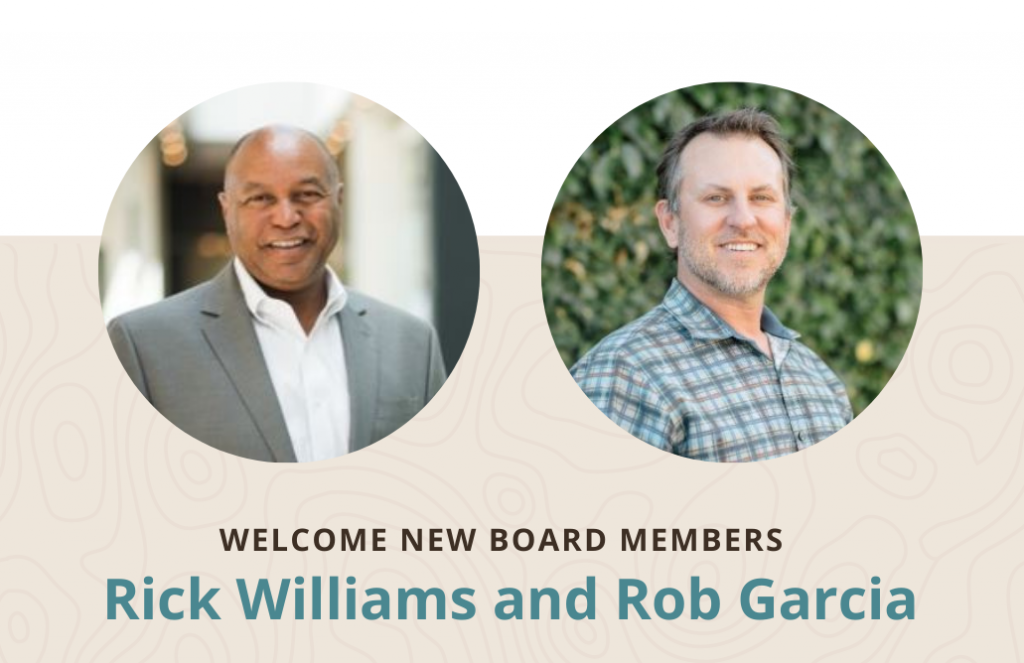 The Community Foundation San Luis Obispo County is proud to welcome two new members to its Board of Directors. Rick Williams and Rob Garcia both have extensive experience giving back to the community and serving on nonprofit boards.
Rick Williams
Rick Williams is the former CEO of the Sobrato Family Foundation and the founder and President of Realize Consulting Group. Rick also previously served as the Director of the Asset Funders Network and the National Programs Director of the Charles and Helen Schwab Foundation. Additionally, Rick previously served as the Deputy Director of the Santa Clara County Mental Health Department and as an executive in several nonprofit organizations. 
Rick has served on many nonprofit boards and is currently the Vice Chair of Third Sector Capital Partners.  He also serves as a board member of the Community Foundation of San Luis Obispo County and Pivotal, the largest foster youth-serving organization in Silicon Valley.  Previously, Rick served as the Board Chair of Archbishop Mitty High School, and as a Board Member of Northern California Grantmakers, the National Council of Family Philanthropy, Fresh Lifelines for Youth, Silicon Valley Law Foundation, and Grantmakers for Effective Organizations. 
Rick holds a master's and bachelor's degree in clinical psychology from Antioch University and Washington State University. He resides on the Central Coast of California with his wife of 36 years, Barb. He has a daughter who is working and living in Pittsburg and a son who is working and living in Silicon Valley.
Rob Garcia
Rob is a CERTIFIED FINANCIAL PLANNER™ practitioner and has earned the Accredited Investment Fiduciary® professional designation from Fiduciary 360, receiving formal training in investment fiduciary responsibility. He also obtained a Certificate in Financial Planning from Boston University and holds FINRA Series 65 certification.

Rob graduated cum laude from Cal Poly, San Luis Obispo in 1997 with a degree in Business Administration concentrating in Financial Management. Rob believes in giving back to the
community. He currently serves on the Cuesta College Foundation Board as well as their Finance Committee, the French Hospital Medical Center Foundation Finance Committee, and on the Board of Directors for Community Action Partnership of San Luis Obispo, CAPSLO. As a veteran, he has been a member of the American Legion Post 66 for
over 20 years.
Rob lives in Templeton, with his beautiful wife, Deb, his two sons, Brandon and Jakeb, and their golden-doodle, Jack. The Garcia family is often found on the tennis court, as all four enjoy the game, or headed out for a camping trip.
We thank outgoing Board members Mary Verdin and Jim Brabeck for their decade of service.