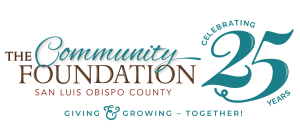 This year, we are proud to celebrate our 25th anniversary of making a difference across the county through philanthropic leadership. As part of the 25th-anniversary activities, we are developing a year-long series of events and communication strategies to showcase our historic work.
For decades, we have been connecting passionate community members to causes they care about. Thanks to continued contributions from SLO County supporters, we have reinvested $66 million back into the community via grants and scholarships.
"This anniversary and the programs that accompany it are a celebration of all of those who've given their time, talent, and financial resources to make our community a better place. We look forward to the prospects that lay ahead and know that we will continue building a better San Luis Obispo County by giving and growing — together."
– Heidi McPherson, CEO of The Foundation
We invite members of the community to celebrate CFSLOCO by attending events, engaging with media campaigns, and supporting our work and the work of nonprofits across the region by making a contribution. Keep scrolling for more!
---
What does CFSLOCO mean to you?
As we reflect on the past 25 years and look forward to the future, we want to celebrate the incredible impact that our community has had on the Foundation and the work that we do. To help us do this, we are inviting you to share your stories with us. Whether it's a memory of a grant that the Foundation awarded, an event that you attended, or a personal connection that you have to our work, we want to hear from you.
Your stories will help us celebrate the Foundation's impact on our community and inspire others to get involved. We may even feature some of the stories on our website, in our newsletter, or at an anniversary celebration! You can also use THIS LINK to complete the form if you're having trouble with your browser. Thank you for helping us celebrate this milestone and for being a part of our community!
---
#25for25 Showcase
Our "#25for25 Showcase" is a tribute to our 25 years of philanthropic work in SLO County, featuring 25 inspiring stories that showcase the tremendous impact that we've made together with our partners and community members. Throughout the year, we'll be sharing these powerful narratives to highlight the historic contributions that have allowed us to continue to give and grow as a foundation, with the help of a few committed individuals who have made a big difference. Keep checking back to see all 25 listed here by the end of 2023!
---
Celebratory Events
25th Anniversary events are sprinkled all throughout 2023! To all of our supporters who have helped us reach this important milestone and who continue to support our work and the work of our partners, THANK YOU. Your long-standing support has been instrumental in helping us achieve our goals and make a real difference in the lives of those we serve. View the gallery from our past events below and stay tuned for photos from later events!
---
Recognitions and Proclamations
The Community Foundation San Luis Obispo County was honored to be recognized by the San Luis Obispo County Board of Supervisors in celebration of our 25th Anniversary.
Supervisor Bruce Gibson read the proclamation paying tribute to the work of The Community Foundation as a catalyst for local philanthropy and the impact of $66 million dollars in grants and scholarships that have been awarded since 1998. We were grateful for the kind words of support from Supervisor Peschong, Supervisor Arnold, and Supervisor Paulding. CEO Heidi McPherson received the proclamation along with Board Members Suzanne Fritz, Jeff Buckingham, Grenda Ernst, Kath Tompkins, and Rick Williams.
Thank you also to Congressman Jimmy Panetta for taking the time to visit our office, meet with our Board and local officials, and share the statement of support that was read into the Congressional Record. SLO City Mayor Erica  Stewart and County Supervisor Dawn Ortiz-Legg also joined us at this recognition.
---