The Community Foundation recognizes that many different factors contribute to healthy, vibrant, and livable communities. As such, we seek to connect the funds made possible by the generosity of our donors to the nonprofits that make our community one where people and place thrive. Field of interest funds support specific areas of interest, such as the arts, environment or education, rather than an individual nonprofit organization. A few of the most prominent Field of Interest funds at The Community Foundation include the Women's Legacy Fund, the Growing Together: An LGBTQ Fund and Access for All Fund.
Field of Interest Funds support organizations working within a specific geographic region; toward a specific purpose, such as supporting the arts or education; or with a specific population, such as children or the elderly. Each Field of Interest Fund was established with a specific charitable purpose in mind and, in perpetuity, will continue to support the issues that the donor cared about most.
By establishing a Field of Interest fund, you can target your gift to address specific interests you may have. You identify your personal interest area when making your gift and our board makes grants to community organizations and programs that are making a difference in the area you select. Your gift stays flexible enough to meet community needs in your interest area, even as they change over time.
While you define the Field of Interest for your fund when you create it, we take care of the maintenance. We continually monitor community needs so you can be sure grants made in the name of the fund make the most impact in your field of interest and create your personal legacy of giving. For more information contact Donor Services at info@cfsloco.org or 805-543-2323.
Please use the links below to find out more about some of our featured field of interest funds. For more information about any of these funds, contact The Community Foundation at info@cfsloco.org or 805-543-2323.
---
Women's Legacy Fund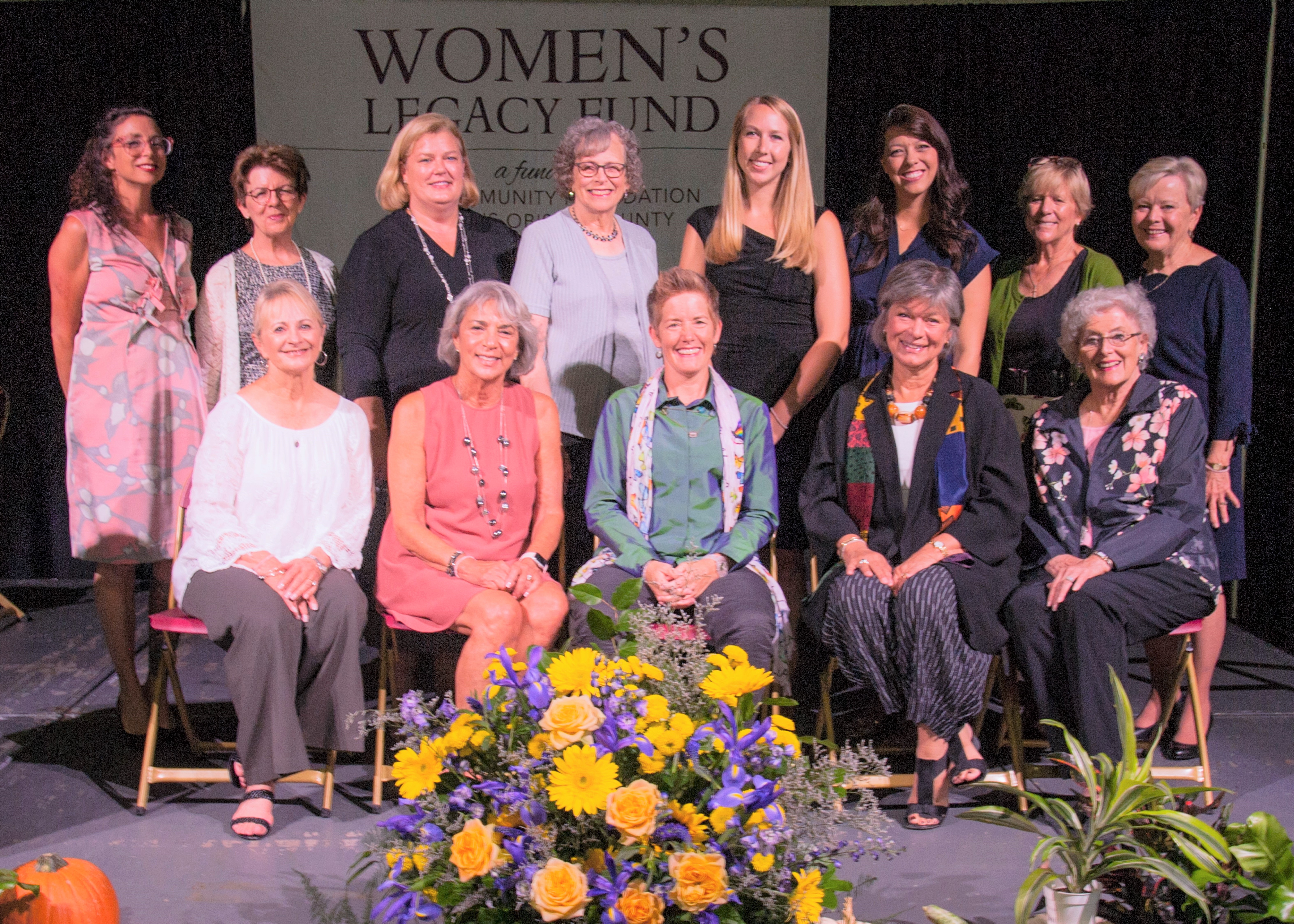 The Women's Legacy Fund mission is to be a catalyst for philanthropy that improves the lives of women and girls in San Luis Obispo County. Established by the Foundation Board of Directors in 2003, this fund is the only endowment fund in the County which targets the needs of women and girls alone. Only the earnings are distributed through grants each year, allowing the fund to contribute to the community in perpetuity.
To learn more about the Women's Legacy Fund please follow this link.
---
Growing Together: An LGBTQ Fund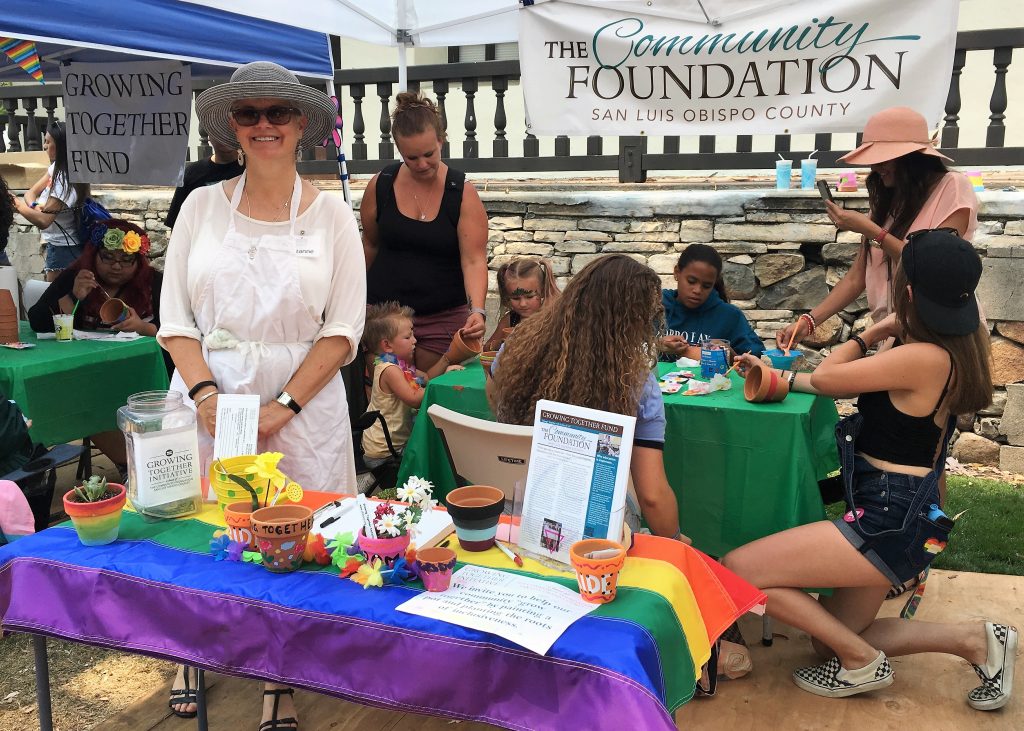 With the goal of creating an inclusive environment, The Community Foundation's Growing Together: An LGBTQ Fund was established in 2001 through grants from the National Lesbian and Gay Funding Partnership and contributions from local donors. The fund supports numerous LGBTQ educational opportunities each year through the leadership of the Growing Together Fund's Advisory Committee. The committee includes Community Foundation staff and Board members, and representatives from various local constituencies: education, law enforcement, faith communities, LGBTQ organizations, and concerned community members.
In order to identify the issues and service needs of the local LGBTQ community, the Growing Together Fund Advisory Committee developed and administered a Community Survey. The Survey was administered in 2001, 2008, and most recently in 2014. You can see the complete report about his latest survey by clicking here. Along with identifying service needs, the Survey has provided a method for gathering information about the health and well being of the LGBTQ community, local community involvement, and local support for LGBTQ individuals, i.e. organizations and sources of information for this community.
Growing Together: An LGBTQ Fund distributes grants to local organizations that focus on the principles of social justice, a civil society, and safety of our youth. On behalf of our donors, more than $300,000 in grants have been provided since 2002. An endowment fund of more than $385,000 supports local efforts focused on community inclusiveness now and in perpetuity. Select our Grantmaking History for a list of programs we have funded.
Growing Together: An LGBTQ Fund General Grants have a cap of $5,000 per grant and are available each spring. This level is intended for more established nonprofits who can provide a track record of financial stability and consistent community involvement. Top priority issues and service needs addressed by the grants program include the following:
Anti-LGBTQ Violence
Housing Discrimination
Civil Rights/Advocacy
LGBTQ Supportive Mental Health Services
Bullying/Harassment/Discrimination
Youth Services
Community Action Project grants specifically intended for emerging local needs projects. It is also designed for projects where almost all labor involved is voluntary, and all that is funded is materials, facility fees, and other non-labor costs. The most an organization or individual can request and receive using this application is $1,000.
Gender Sexuality Alliance Club (GSA) mini-grants of up to $500 are available for local high school and community college projects in three broad categories:
Advocacy Beyond Campus – Projects that reach out to the local community. Examples: providing youth speakers for community meetings, participating in Pride in the Plaza, club community service activities.
Continuity of the Club/Sustainability – Projects that work to increase the sustainability of Gender Sexuality Alliance Clubs. Examples: increasing membership, outreach to allies, training for existing members, club presence at school wide activities such as homecoming, club buttons, stickers and t-shirts to increase awareness of club.
Community Education – On-campus projects that reach out to club member's fellow students. Examples: sponsoring activities such as guest speakers, film screenings, "Coming Out Day" or "Day of Silence."
Grant Proposal Applications:
To apply for a grant from the Growing Together Initiative Fund during our annual spring grant cycle click here.
To apply for a Community Action Project grant in the amount of $1,000 click here.
To apply for a Gender Sexuality Alliance grant of $500 during the school year click here.
Growing Together Fund LGBTQ Award
An annual award presented by Growing Together: An LGBTQ Fund, a fund held at The Community Foundation San Luis Obispo County, awarded to an individual, business or organization demonstrating ongoing support of social justice, inclusivity and equality for the LGBTQ community in San Luis Obispo County through philanthropy, business practices, direct services, advocacy or community action. The deadline to nominate leaders is Thursday, May 6th at 5pm. The nomination form can be accessed here. The winner will be announced during a virtual the Pride Drag Show Friday, May 21st, 2021 at 8pm.
To make a general donation to the Growing Together: An LGBTQ Fund click here.
---
Access for All Fund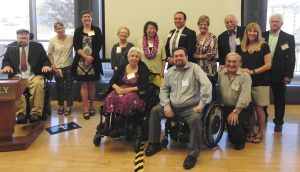 The Access for All field of interest fund promotes accessibility, acknowledges advocacy work, and provides connection between communities throughout San Luis Obispo County. We advocate for an accessible, diverse and welcoming community that values disability and encourages the full participation of people with disabilities in all aspects of life. We envision a community in which accommodations and opportunities for people with disabilities are equitable to opportunities for the general population.
The annual Paul Wolff Accessibility Advocacy Awards (PWAAA) were established in honor of local architect and accessibility advocate Paul Wolff. These annual awards recognize and honor those who strive to make San Luis Obispo County a barrier-free community. The Access for All Advisory Committee oversees all aspects of implementing the biannual PWAAA Program, including solicitation of nominations, evaluation and selection of award recipients, and the award presentation ceremony. The next PWAAA Awards will take place in the fall of 2020. More details to come.
For more information about the Access for All as well as a list of resources check out their website at www.sloaccessforall.org.
To make a donation to the Access for All Fund click here.