Access for All Inaugural Grant 2022
"A Garden for All"
---
Access for All Fund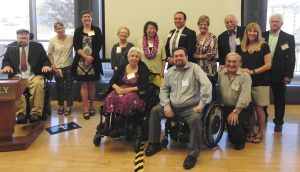 The Access for All field of interest fund promotes accessibility, acknowledges advocacy work, and provides connection between communities throughout San Luis Obispo County. We advocate for an accessible, diverse and welcoming community that values disability and encourages the full participation of people with disabilities in all aspects of life. We envision a community in which accommodations and opportunities for people with disabilities are equitable to opportunities for the general population.
The annual Paul Wolff Accessibility Advocacy Awards (PWAAA) were established in honor of local architect and accessibility advocate Paul Wolff. These annual awards recognize and honor those who strive to make San Luis Obispo County a barrier-free community. The Access for All Advisory Committee oversees all aspects of implementing the biannual PWAAA Program, including solicitation of nominations, evaluation and selection of award recipients, and the award presentation ceremony. The next PWAAA Awards will take place in the fall of 2020. More details to come.
For more information about the Access for All as well as a list of resources check out their website at www.sloaccessforall.org.
To make a donation to the Access for All Fund click here.