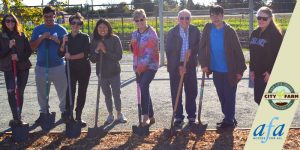 A beloved community space is set to receive a big upgrade in 2023, thanks to a new partnership between Access for All and City Farm SLO. The accessibility-friendly Garden for All program will provide universally accessible gardening and therapeutic horticulture spaces for students with disabilities, and is made possible by a first-ever Access for All (AFA) Grant.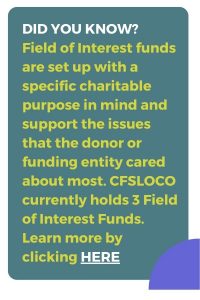 AFA is a field of interest fund of The Community Foundation San Luis Obispo County that focuses on equal opportunities for people with disabilities. Since 2006, thanks to the generosity of Beverly and Bryan Gingg who kickstarted the fund, AFA has been recognizing individuals who work to make SLO County a barrier-free community. 
The impact of the AFA to date is due in large part to a Cal Poly Professor emeritus and local advocacy advocate Paul Wolff. Mr. Wolff, a founding member of Access for All, once asked an important question to the AFA committee: can we do more to help build a more inclusive community? The unanimous response was "yes!" With the support of founder Beverly Gingg, the AFA advisory committee set to work on establishing a grantmaking program for the Access for All Fund. 
The committee compiled reports from several local, statewide, and national organizations to identify common themes affecting the Disability community. Based on data analysis and lived experiences, funding priorities were developed for the Access For All Fund. These priorities address current and emerging needs of people living with disabilities in San Luis Obispo County and encourage local organizations to create programs in support of these needs. 
Access for All Fund decided to prioritize organizations in San Luis Obispo County with programs that:
• Focus on advancing access to health & wellness
• Expand capacity for housing & home access
• Create and support community participation / inclusion
• Promote accessible workspaces and grow employment opportunities
And so, after much deliberation, Access for All announced that the $5,000 award of their first grant would go to City Farm SLO for their 'Garden For All' program. 
"Digging, planting, and harvesting are therapeutic, hands-on activities that stimulate the mind and encourage team-building and collaboration," says Kayla Rutland Executive Director of City Farm SLO. "Thanks to this grant from Access for All, more students in our community will benefit from learning these critical life skills, and will feel empowered to pursue their dreams."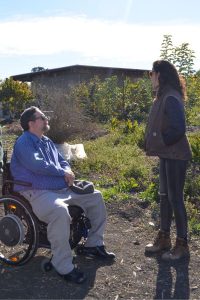 The grant will be specifically used to create wheelchair-accessible pathways, raised beds at varying heights, shade structures, a mobile classroom, cooking cart, and sensory garden.
AFA is honored to support this program which supports community participation, inclusion and aligns with their mission to create an accessible community where people with disabilities have an equal opportunity to fully participate in all aspects of SLO County life.
To help build a more accessible SLO, donate to the Access for All fund HERE 
To learn more about Access For All, contact program associate Alysia Krupsky HERE