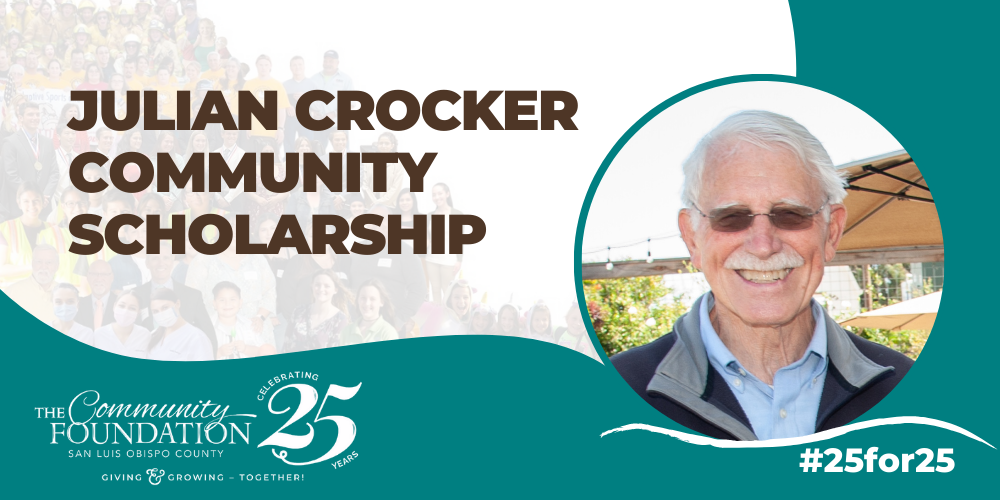 The Julian Crocker Community Scholarship Fund – held at The Community Foundation San Luis Obispo County – is a community fund which pays tribute to Dr. Julian Crocker, a leader and advocate in our community for education access. The former San Luis Obispo County Superintendent of Schools has been a vocal advocate for public education and an outstanding ambassador for the community.
The fund's mission is to make post-secondary education accessible to a broader range of San Luis Obispo County residents, irrespective of their financial circumstances.
"It is an honor to have established this scholarship fund in the
name of Dr. Julian Crocker and to recognize his leadership and
commitment to our students. We continue to build upon his living legacy and his ongoing dedication to supporting students' pursuit of higher education." – Heidi McPherson, CEO
Through this scholarship, individuals can aspire to achieve their educational goals and create brighter futures for themselves and their community; it provides hope and support to those who may have otherwise struggled to access post-secondary education.
Who Is Eligible for the Julian Crocker Community Scholarship? San Luis Obispo residents who demonstrate financial need. It particularly favors two groups of students:
Transferring students: Those transitioning from a community college to a four-year college or university.
Career technical education (CTE) seekers: Individuals pursuing degrees or certificates in career technical education at accredited institutions.
And the best part? The more the community contributes, the more students can achieve. Every member of the community is welcomed to contribute to this scholarship, making a direct and positive impact on the educational journey of our future leaders.
Join us in celebrating the legacy of Dr. Julian Crocker and the promise of a brighter, more educated future for San Luis Obispo County. Your support, no matter how big or small, brings us one step closer to a more inclusive, vibrant, and educated community for all.
> DONATE TO THE SCHOLARSHIP HERE <