An open letter to the community from Jane Sinton about our Foundation's humble beginnings, the Women's Legacy Fund, and the amazing impacts that began with these passionate ideas.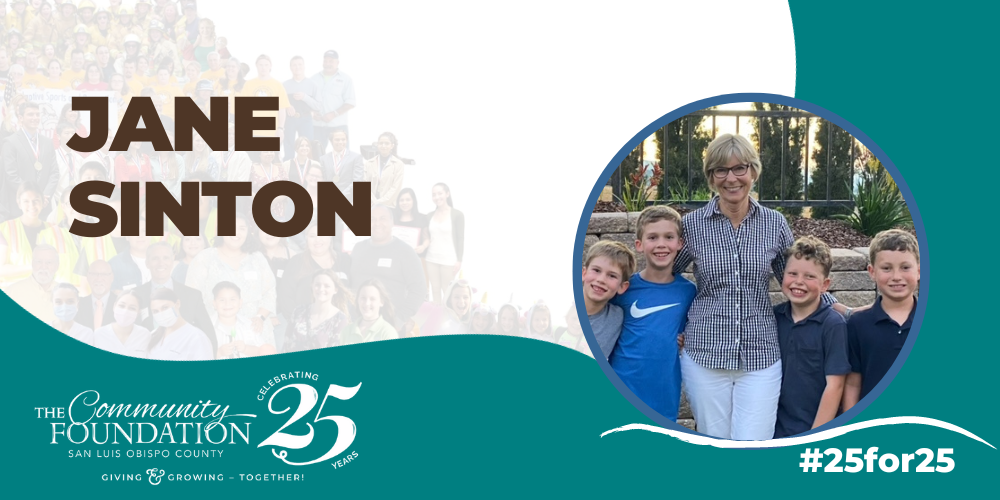 This feature is part of our #25for25 showcase where we highlight 25 stories to mark our 25 years of philanthropy in SLO County. These partners and community members have allowed the Foundation to continue giving and growing – together!
"When Dee Lacey first called me about helping to start a community foundation in San Luis Obispo County, she billed it as 'you get to just give money away!' Well, how could you say no to that? I should have known there was a hitch! In the beginning, we had to convince people to put money into the endowment before we could earn interest and be able to give that money away.
In hindsight, helping to start the Foundation and being the founding Board President was one of the most rewarding and hardest things I have done in my life. Now, here we are celebrating 25 years! We have given $66 million dollars back into the community to support people who need assistance. What I love about the Foundation is that we now have so many stories to tell about helping local people improve their lives. Real stories about real human beings in need – how we have helped to lift them up in life. We have stories of helping students go to college, helping the homeless find housing, helping save the environment, helping people with disabilities. The list goes on.
One of my favorite stories about the early days of the Foundation is when we had our first grants awards ceremony. We had very little money to give away, but we tried to make it count. It was the Turtle and Tortoise Club – a very modest club with few members, but they were passionate about taking turtles and tortoises around the county to schools to educate the kids. I think they asked for $200 to help with the gas money. When we awarded it to them at a wonderfully intimate awards gathering, they were so excited! It wasn't a big grant, but it had a big impact on the people who were passionately dedicated to teaching kids about turtles and tortoises, as well as the kids who benefitted from their passion. Those were humble beginnings but stories like this drove us to work harder. That then convinced donors to give to their own passions to help us build a permanent endowment that will permanently help our community. Now we are able to give away thousands of dollars in multi-year grants to organizations that do the wonderful work of helping people in this community.
One of the things that makes CFSLOCO unique is that we all share information on what things have worked and what hasn't worked. Early on in the Foundation's evolution, I keyed in on one idea that really interested me – a Women's Legacy Fund. Many community foundations across the country have some version of a women's fund that builds an endowment to benefit women and girls. In 2002, the women serving on the Board of The Community Foundation got together and went to work. We set a goal of raising $100,000 to create a fund that could start giving away earnings within a few years. Women from across the county jumped in and signed up as Legacy Leaders for $1,000 each. We raised the first $100,000 in just three months. The fund is now at $2 million, and we have given more than $600,000 to organizations and programs focused on helping women and girls. And we have dozens of stories from our nonprofit partners of women and girls who have benefitted – by getting an education, leaving abusive relationships, learning financial literacy, leaving homelessness behind, becoming more self-confident, and bettering their lives and the lives of their families.
After serving more than 12 years on the Board, I termed out, but I just couldn't leave the organization that I feel so passionate about. I have since sat on every committee that will have me – which turns out to be all of them! My most recent committee experience brings me full circle. I am a current member of the Grantmaking Committee. While on the Board, I concentrated my efforts on building an endowment and organizing the committees we needed to do our work effectively. The only committee I hadn't served on was the grants committee. It's particularly gratifying because, 25 years after Dee told me I would get to give money away, I am still helping to give the money away! What a rewarding experience that has been!
I have been able to watch The Community Foundation in action, giving back to people in the community. In particular, during the pandemic, it was incredible to see our donors' tremendous response to the increased need across the county. The Community Foundation was able to support so many nonprofits who were then able to assist people who were suffering, and the agencies struggling to help them. It has been my honor and privilege, with so many other wonderful, hardworking, dedicated people – both Staff and Board – to build this Foundation that has made such a difference in the lives of people in this community!"