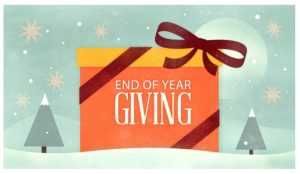 With hundreds of active nonprofits in San Luis Obispo County, there are many options available for giving during the Holiday Season that will ensure your tax-deductible contributions support our community.
We do the Research: The Community Foundation staff is here to offer suggestions on reputable agencies working on the causes you care about. We also offer various giving options when you make your year-end donations to nonprofits through The Community Foundation in order to maximize the impact of your charitable giving.

What matters most: What is important and meaningful to you? This was another year of tremendous change, and the major events of 2022 can help serve as inspiration for your charitable giving – there are areas of need everywhere. Give to an organization that addresses a cause that you are passionate about, such as animal welfare, hunger, or conservation efforts, and that achieves the results you seek. 


Use your IRA for Charity: Contributing from your IRA directly to The Community Foundation is an easy way to reduce your tax burden and make a gift to support multiple causes that are meaningful to you. Giving your required minimum distribution directly to a charity through a qualified charitable deduction benefits you and the community you love.

Volunteer: Many charities experienced a significant drop in the number of volunteers who were able to help during the pandemic. Give them your time this year. While monetary donations are always appreciated, you can also ask about volunteer opportunities. See the impact of donations with your own eyes!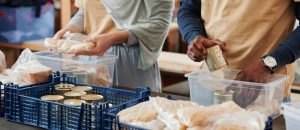 Your Donor Advised Fund: If you already have a fund held at The Community Foundation, you can easily recommend a distribution to the charity of your choice at any time. For grants you wish to distribute in 2022, please contact Cecelia Mazelin, our Donor Services Coordinator, at cecelia@cfsloco.org before December 16. This is the preferred date to submit recommendations to provide the best chance of grantees receiving funds before December 31. 
The Community Foundation will continue processing grants and issuing payments through the end of the year, but factors like delayed postal service or closed offices can impact when grantees receive funds. As a reminder, there is no tax implication for donors when grantees receive Foundation funds.
For more information about year-end giving through The Community Foundation, for instructions on how to contribute via wire transfers or stock gifts, or if you are interested in establishing a Donor Advised Fund, please contact our Donor Services Coordinator Cecelia Mazelin at cecelia@cfsloco.org.
Contribution Deadlines
As this year draws to a close, charitable giving is likely top-of-mind for many. When considering what you can donate, plan ahead using the contribution guidelines below.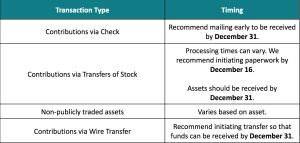 Please contact us if you would like to discuss any of these options.