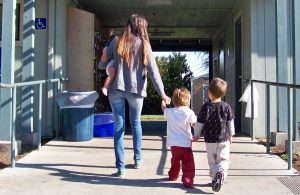 You can help transform the lives of those facing homelessness in San Luis Obispo County this holiday season.
Homeless shelters can always use extra support, especially during the holidays and the winter months when they're at their busiest. As San Luis Obispo County has inched out of the pandemic, homeless services across the county are preparing for the inevitable uptick in individuals and families requiring assistance and services.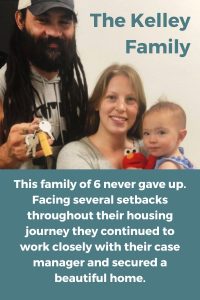 We recently reached out to local organizations and asked how they could use our community's support in the cold winter months ahead. Here's what the Community Action Partnership of San Luis Obispo County, Inc. (CAPSLO), El Camino Homeless Organization (ECHO), and 5 Cities Homeless Coalition had to say – three organizations we are grateful to support through an Opportunity to Thrive grant. This grant from our general grants program focuses on empowering and strengthening individuals to overcome obstacles while embarking on the road to self-sufficiency. Keep reading to learn more!
Community Action Partnership of San Luis Obispo County (CAPSLO)
CAPSLO has been San Luis Obispo County's federally-designated community action agency since 1965. Through a variety of programs and in collaboration with other community service agencies, CAPSLO helps individuals and families achieve self-sufficiency and economic stability.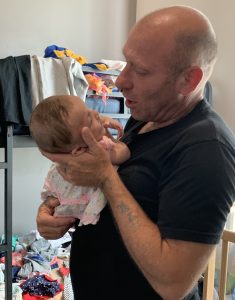 In the past few months, CAPSLO has seen a massive increase in the number of families using its services. "Typically, we serve between 4-5 families per month in shelter and case management services here at Prado Homeless Services Center (HSC), but in the past year, that has grown to an average of 10 families per month," says Loren Leidinger, CAPSLO's Outreach/Development Director.
CAPSLO's family dorms are currently at capacity, which has limited the number of families who can benefit from this resource. With an increase in the number of families falling into homelessness, emergency hotel vouchers are being distributed to keep up with the influx of families in need, while a tight housing market continues to cause a gradual increase in the length of time families are enrolled for emergency shelter services.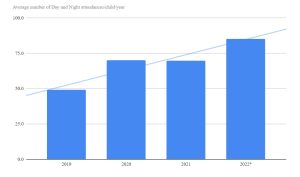 Despite the increase in funding to families experiencing homelessness, community support is vital to these programs. A combined community effort involving organizations, foundations, and individuals must be present in order to effectively improve the lives of families and individuals across the county.
"We rely heavily on community partners and communities of faith to donate crucial resources that we use to make Welcome Home Kits," says Leidinger. "These kits – which vary from bathroom kits, bedroom kits, kitchen, etc. – are designed to help individuals and families move from shelter or street-based homelessness into housing with all of the needed amenities required for a successful move-in."

El Camino Homeless Organization (ECHO)
Established in 2001, ECHO empowers people in SLO County to make positive change by providing food, shelter, and supportive services.Their various services ensure that individuals and families struggling with homelessness can find jobs, get fed, stay healthy, and find housing. 
ECHO operates two facilities in North County that each provide meals and a safe and secure overnight shelter to meet the immediate needs of families and individuals in the community who are facing hunger and homelessness. 
Having two centralized locations in North County is crucial to providing services that help individuals and families get back to work, identify affordable housing, and maintain hope throughout their housing journeys. Recent data trends at local shelters have shown an increase in families that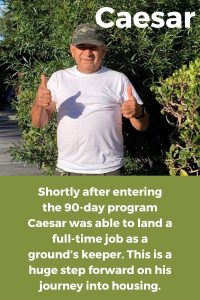 are accessing ECHO's services in Atascadero and Paso Robles. 
"Now more than ever, it is critical that we are able to keep our doors open and continue to offer our case management services and shelter programs," says Austin Solheim, Donor Relations and Community Engagement Manager for ECHO. "In our 90-day transition program we have seen that having a stable landing pad and consistent case management has led to rates of over 50% of the individuals and families we served entering back into permanent housing."
The funds recently awarded to ECHO from CFSLOCO will go towards their Client Assistance Program which helps community members get back on their feet when they are experiencing houslessness. The program pays for critical, short-term expenses that shelter residents and outreach clients need in order to successfully transition back to permanent housing and stable incomes. By reducing these expenses, community members are more able to secure jobs, find housing, and move into new homes.

5Cities Homeless Coalition (5CHC)
Planning how best to address the needs of the homeless in San Luis Obispo County today involves many caring citizens and community leaders, and 5CHC is taking a collaborative approach to meet the challenge. 5CHC works hard to service families and individuals by providing the resources, support, and hope that they need to become self-sufficient, productive community members.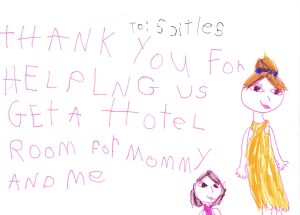 The backbone of the 5Cities Homeless Coalition is its strength in channeling community resources, volunteers, and donor assets to meet the needs of the homeless population through existing and new programs. Prior to these collaborative efforts, a loose network of service providers existed.  Communicating and coordinating services through this network required time and energy, but this was a role 5CHC adopted and is actively working to fill. 
5Cities Homeless Coalition provides wrap-around services including case management and direct financial assistance – with a special emphasis on housing stability. Their efforts focus on helping the most vulnerable in our community maintain dignity while working toward a new home or retaining their home. Their work goes beyond the immediate, to ensure that clients have the plan, skill sets, and support needed to be successful and self-sufficient. More than 90% of those who 5CHC has helped to house (or prevented from eviction) remain housed more than one-year later.

WAYS TO SUPPORT:
Rent to a family experiencing homelessness, or welcome families into your own home

Provide Goods

ECHO has created a wishlist with input from residents young and not-so-young   >

VIEW THE WISHLIST

<

Donate funds to your local city or county specific non-profit 

Volunteer

With

ECHO you can join

a force of 1,500 community volunteers providing ancillary support to run shelter and meal programs for shelter residents and people facing hunger and homelessness in the community.

Both online and virtual volunteer opportunities are available through CAPSLO
View 5CHC Volunteer opportunities HERE