All throughout this year, we will be highlighting 25 stories to mark our 25 years of philanthropy in SLO County. Our #25for25 campaign showcases a selection of partners and community members that have allowed the Foundation to continue giving and growing – together!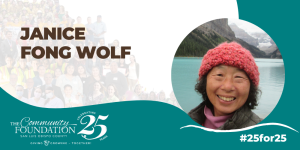 For 16 years, Janice Fong Wolf was the face of The Community Foundation to our nonprofit partners. A Cal Poly alumna, Janice worked for 19 years in health and human services and later found herself as a key player in creating our grantmaking program from scratch.
Janice is immensely proud of the work she did in the Foundation's early days and incredibly grateful for the support of the community. Along with the Foundation's staff  and a supportive Board of Directors, Janice was instrumental in creating an organization that was efficient and effective, but with a manageable workload for the small staff. Her oversight and work to establish the Raising a Reader early literacy program in SLO, a partnership with the Robert H. Janssen Foundation to support youth programs and distribute funds from the Hugo and Erna Klaproad estate to benefit homeless services in South County are all examples of the broad impact of her work. She oversaw the growth of quality programs that did not exceed their capacity to maintain a level of excellence. 
In 2000, the Foundation was ready to award grants. On Janice's first day, they had 75 applications and needed someone to create the process. As an experienced grant seeker, Janice became a dedicated grant maker who was able to fashion a process that was friendly to the non-profit agencies but was also fair and objective. Janice and the Foundation's Founders fashioned applications, created a review committee, and a fair and objective evaluation process.
Janice also helped with the initial design of the Foundation's scholarship and awards program. Though she was cautioned that scholarship programs are very time-intensive, she moved forward on what she viewed as an important component of foundation work. The first awards created were programs recognizing individuals and organizations that improved the community. These included the Isabella Ruiz Humanitarian Award, Paul Wolff Accessibility Advocacy Award, and Environmental  Award. 
Janice gained an encyclopedic knowledge of community needs and the organizations that were addressing those needs. She created relationships throughout the County that help strengthen bonds with the local non-profit agencies. Agencies might have viewed the Foundation as another rival for donor dollars. Instead, Janice gained their trust, and they came to see the Foundation as a partner. 
One example of her community-building is her early relationship with Bryan and Beverly Gingg. Bryan and Beverly had founded the accessibility advocacy group known as Access for All, that honors those who advocate for a community that is friendly to those who face limited accessibility due to physical challenges. The Ginggs asked Janice and the Foundation to run the program and host the annual Paul Wolff Accessibility Advocacy Award ceremony held at Cal Poly. The program needed to be accessible to those with a variety of physical challenges. Janice arranged to have sign-language interpretation, large-format and Braille programs  and wheel-chair accessibility to all areas of the venue. Bryan, Beverly, Paul, and his wife Marion became valued members of the Foundation family. 
After retiring in 2016, Janice and Rex, her husband of 46 years, enjoy tending their garden at their home in Los Osos, traveling around the country in their RV with their dog, Ivy, or taking pleasure in  the natural beauty here in SLO.  After taking a year off from her many commitments, Janice continues to serve her community. She is a tutor for Literacy for Life, serves on the board of Cuesta College Foundation, volunteers with SLO Repertory Theatre, and reviews grant applications for SLO County.
Thank you Janice for all your years of service to The Community Foundation and to our community!