Today, the American Disabilities Act turns 32. This important civil rights law prohibits discrimination against individuals with disabilities within schools, transportation, and all places that are open to the general public.
Across San Luis Obispo County, allies and activists are dedicated to ensuring that people with disabilities have the same rights and opportunities as everyone else. One of these individuals is Paul Wolff: a local architect and accessibility advocate.
Paul Wolff advocates for an accessible, diverse, and welcoming community that values disability and encourages the full participation of people with disabilities in all aspects of life. Not to mention, the annual Paul Wolff Accessibility Advocacy Awards (PWAAA) were established in honor of Wolff. These awards are implemented through Access for All, a field of interest fund through The Community Foundation, and honor those who strive to make San Luis Obispo County a barrier-free community.
Paul – Professor Emeritus of Architecture at Cal Poly State University – has an incredible life story. Paul was born in 1929 in Hamburg, Germany to Jewish parents. After his father's arrest during Kristallnacht in 1938, young Paul and his family fled Nazi occupation to London, England in 1939. Fortunately, as the political climate grew more volatile, they were able to secure a 30-day transatlantic crossing and landed in San Francisco on August 1, 1939 – only 30 days before the start of WWII in Europe.
In the 1950s, Paul was drafted into the US Army and served in Europe. After his service, the GI Bill of Rights enabled him to enroll in the graduate program of architectural studies at The Academy of Fine Arts in Munich. After graduation, he began his architecture career working with renowned architect Richard J. Neutra in Los Angeles and later started his own architecture practice in Palo Alto. In 1971, Paul began teaching Architecture at Cal Poly State University. It was during this time at Cal Poly that he began to recognize the need for accessibility in architectural design, partly due to the effects of his sister's advancing MS diagnosis.
After earning his master's degree in Environmental Psychology from the University of Surrey in Guilford, England, Paul returned to Cal Poly where he introduced Environmental Psychology and Universal Design into the School of Architecture's curriculum. In July of 1990, architectural accessibility finally became a national requirement as the American Disability Act (ADA) was passed into law. After 23 years at Cal Poly, Paul retired to focus on community involvement. He and his wife Marion, who escaped from Vienna as part of the Kindertransport, continue to talk to students and groups sharing the stories of escapes from Nazi Germany and exploring the impact of the current violence we see in our society today and its relationship to the evils of prejudices and discrimination. Paul worked with local activists to start Access for All, which promotes accessibility, supports advocacy work, and provides connection through The Community Foundation San Luis Obispo County. He currently serves on the Access for All advisory committee.
We are extremely grateful to know and work closely with Paul – he is an inspiration to us all. Read his own account of this incredible story, which we are honored to share with you.

"Today there is so much for which to be grateful. Since I have been allowed to survive for 92.5 years, there is so much to recall. I started long, long ago, so far distant, in a radically different universe, within a far different culture and language.
The first 9 family years in Hamburg, Germany, ended abruptly on the infamous Kristalnacht, 11/9/1938, as the Gestapo invaded our house to arrest my father despite his 4 years as a wounded/decorated army captain fighting for Germany in WWI . Yet, not until many years later in SF, did I fully comprehend the politics of the times.
These were events that must never be forgotten! Towards that end, Marion and I devoted much time in our later years to sharing both of our Holocaust experiences with high school and university students in Vienna, Berlin, Hamburg, as well as locally. Marion's exodus at 8, from Vienna, via the Kindertransport was always of great interest to our audiences. Today, I gladly continue to talk to students and local groups about learning from our recent destructive history and its relationship to the evils of current prejudices and discrimination.
We were among the fortunate few. Six months after Kristallnacht we were able to reassemble our small family in London and board the Hamburg-American freighter SS Dynteldyke for the 30-day Atlantic crossing to SF.
The subsequent 9 years were filled with growth and challenge from school, sports, and a variety of jobs in San Francisco. New freedoms and responsibilities emerged as I advanced to UC Berkeley, Yosemite, Livermore, and Texas, Missouri, and Germany courtesy of the US Army.
My 1953 rejection from OCS (Officers Candidate School) actually worked to my benefit. Subsequently, being drafted into the US army led to my assignment as the operator of a 20-ton crane in a chaotic divided post-war Germany. That year – 1954 – gave me the exciting opportunity to explore Hamburg, Mainz, Paris, Stromboli, Sweden, Finland, and London.

Upon my discharge from the US army, the GI Bill of Rights allowed me to enroll in stimulating graduate architecture studies at The Academy of Fine Arts in Munich. Thereafter, I obtained passage home on the USS Langfitt by teaching and counseling some 400 Hungarians seeking refuge in the USA.
[I] spent the following 3 years living and working with renowned Architect Richard J. Neutra in his LA studio. By 30, in 1960, I found and wed a young German visitor from London, Marion Pollak. Three precious children followed: Karen, 1962, Linda, 1964, Charles, 1966.
During the following 10 years as I started my architectural practice in Palo Alto, I became increasingly aware of my sister Eva's advancing disability due to her MS. I also noted that the CA building code tended to ignore accessibility issues. In 1970 the emerging Department of Architecture at Cal Poly State University in San Luis Obispo was expanding… and I applied.
By September 1971, we had sold our remodeled Eichler home in Palo Alto and moved to SLO as I started teaching my first classes. Two years later I had to decide my future. To advance at the University would require a Masters Degree.
Due to the strong influence of Neutra's humanistic architecture and my access concerns, I chose to pursue a Master's program in Environmental Psychology at the University of Surrey in Guilford, England. This allowed Marion to support the 5 of us by working as a secretary at the University.
Upon my return to teaching, I introduced Environmental Psychology and Universal Design, creating a more inclusive environment (including people with disabilities) into the architectural curriculum. National interest in the rights of all people to have equal access to our environment was increasing, which led me to work with many local activists to start Access for All in SLO County.
In July of 1990, architectural accessibility finally became a national requirement as the American Disability Act (ADA) became the law of the land. After 23 years at Cal Poly, I retired in order to do more consulting and designing, returning to my home-based architectural practice. Community involvement plus travel to fascinating places further enriched these memorable years." – Paul Wolff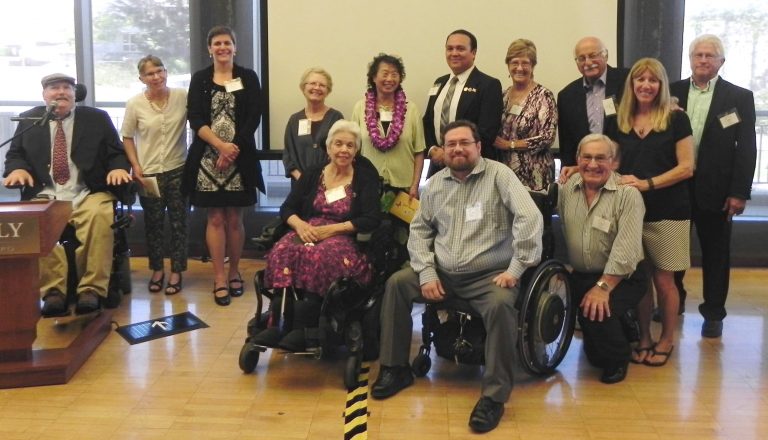 Consider making a donation to Access for All by clicking HERE.