This story was originally published in the SLO Tribune to highlight cesar chavez day. Authored by Erica Rubalcaba-Heredia and Joel Diringer.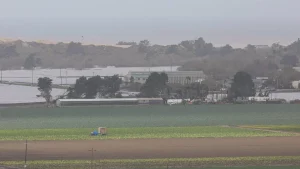 David Middlecamp/dmiddlecamp@thetribunenews.com
Today is Cesar Chavez Day — a good time to evaluate the conditions farmworkers face in San Luis Obispo County.
Unfortunately, the climate crisis has taken a heavy toll on farmworkers as they continue to toil through disease, heat and smoke to provide food for us.
Recent flooding has brought additional challenges. Storms have affected hundreds of families on the Central Coast. Farm fields are underwater, so farmworkers either work fewer hours or not at all, yet still have to pay rent, buy groceries and deal with the higher living cost of pretty much everything.
If agricultural workers are undocumented it is even harder since they don't qualify for the government support usually available to displaced workers. Undocumented workers are not eligible for unemployment insurance, CalFresh (food stamps), FEMA aid or many other social programs.
During COVID-19, undocumented workers were excluded from federal relief programs and stimulus payments. And Medi-Cal is not yet available to all low-income families, although it is being expanded in 2024 to cover eligible undocumented adults.
As we celebrate Cesar Chavez Day, the question arises: How do we support our farmworker neighbors who have provided our food through the recent droughts, floods, pandemics, heat, wildfires and other disasters?
You can help by joining community members in supporting SLO County UndocuSupport, our local immigrant aid and advocacy organization. You can also educate yourself and stay abreast of policy initiatives at the state level to create more equitable systems of support.
Our agricultural workforce is overwhelmingly comprised of immigrant Latinos, mostly from Mexico. Nearly half (49%) are undocumented immigrants. A growing number of local farmworkers speak an indigenous language such as Mixteco rather than Spanish.
How have farmworkers survived these challenging times?
Not well, according to a recent health survey of over 1,200 California farmworkers by UC Merced.
Of those interviewed in the Farmworker Health Survey, 36% rated their health as fair or poor. One in five respondents (19%) reported feeling nervous or anxious. Half reported being without health insurance in the past 12 months.
The California Legislature has not been ignoring the plight of farmworkers, but progress is slow. Medi-Cal will expand in 2024, but Gov. Gavin Newsom vetoed a state food assistance program last year. Expanding eligibility for unemployment benefits (SB227) is being considered this year, as is a renewed effort for a food program (SB245). Our newly elected Assemblymember Dawn Addis has co-sponsored AB4, which would allow undocumented workers to purchase health insurance through Covered California.
As our state policymakers wade through the legislative process, our local community has actively supported local working families, regardless of immigration status, through UndocuSupport.
Since its inception in spring 2020, SLO County UndocuSupport has raised over $245,000 and attracted statewide philanthropic funding of $213,000 to support 606 local immigrant families (with 2,100 family members) in at least 17 communities in SLO County.
In response to the recent floods, we provided eight local family service organizations with $21,000 in funds for families affected by disaster.
The Community Foundation San Luis Obispo County has partnered with UndocuSupport since its inception. As the holder of the UndocuSupport Fund, the Community Foundation also acts as our fiscal agent for grants and programs.
Recently, Dr. Ben and Pat McAdams gave a generous donation of $25,000 to SLO County UndocuSupport after attending a presentation at The Community Foundation. We urge you to join the McAdams' extraordinary gift and help us match their generosity. Donations can be made to our Community Foundation fund at www.sloundocusupport.org/donate
Erica Rubalcaba-Heredia and Joel Diringer are founding members of SLO County UndocuSupport. Erica is Director of the Promotores Collaborative San Luis Obispo and Joel Diringer is a farmworker and immigrant health advocate based in San Luis Obispo.