The Community Foundation San Luis Obispo County Draws High Praise  from Elected Officials
Local Leaders Acknowledge Foundation's 25 Years of Service
SAN LUIS OBISPO, CA – The Community Foundation San Luis Obispo celebrates its 25th anniversary this year, which has recently garnered notable attention from local officials and policy makers. At a recent meeting of the County Board of Supervisors, several county supervisors paid tribute to the Foundation's work as a catalyst for local philanthropy, and U.S. Congressman Jimmy Panetta expressed his appreciation for CFSLOCO's decades-long commitment to the greater San Luis Obispo community.
County Supervisors Arnold, Gibson, Paulding, and Peschong all expressed their gratitude for the Foundation's impact in the community, highlighting its efforts to support and empower local nonprofits and address critical issues facing the region.
"We are proud to have The Community Foundation as a partner in our work to build a stronger, more resilient community," said County Supervisor John Peshong. "Their dedication to fostering philanthropy and driving positive change in San Luis Obispo County is truly inspiring."
Congressman Panetta visited The Community Foundation's office to personally recognize the organization's contributions to the community. He praised the Foundation's commitment to creating opportunities for all residents to thrive and emphasized the importance of philanthropy in building more equitable communities.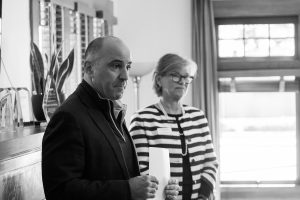 "For the last 25 years, The Community Foundation San Luis Obispo County has worked to empower and enhance our communities through philanthropy and service," said Rep. Panetta. "Their vital work provides support and advances opportunities for the most vulnerable in San Luis Obispo County in their times of need. The people of San Luis Obispo County are grateful for the work of their Community Foundation, and I look forward to supporting them so that they can continue to serve and enhance our community." 
The expressions of gratitude from local officials and policymakers highlight the important role The Community Foundation has played in promoting philanthropy and community service for the past 25 years. Heidi McPherson has been leading as CEO since 2014 and has established it as a regional leader in philanthropy. "The Community Foundation is honored to receive this recognition from such esteemed leaders in our community," says McPherson. "We remain committed to creating a just and equitable community that respects and provides support for all our residents, enabling them to thrive here."
For more information visit https://www.cfsloco.org/about-us/celebrating-25-years/